What is group critical illness cover?
In this article, we look at the Group Critical Illness product to see who it covers, the conditions it covers and how it works.
What is group critical illness cover?
In this article, we look at the Group Critical Illness product to see who it covers, the conditions it covers and how it works.
Group critical illness cover is the most recent addition to the group risk stable. It pays a tax-free lump sum to an employee if they are diagnosed with a serious medical condition covered by the policy, such as cancer or heart attack, or they undergo a defined surgical procedure.
It has the lowest penetration of group risk, with 5,088 policies in force and 697,304 employees covered, according to Swiss Re Group Watch 2022 survey. But the market continues to show strong signs of growth. Swiss Re reports that the number of in-force policies grew by 8.2% in 2021, with the number of employees insured up by 5.9%.
Group critical illness insurers paid £106.3 million in claims in 2021, according to the GRiD Claims Survey 2022. This was an increase of £14.7 million on 2020 figures. The average claim paid was £73,089 and cancer was the main cause of claim.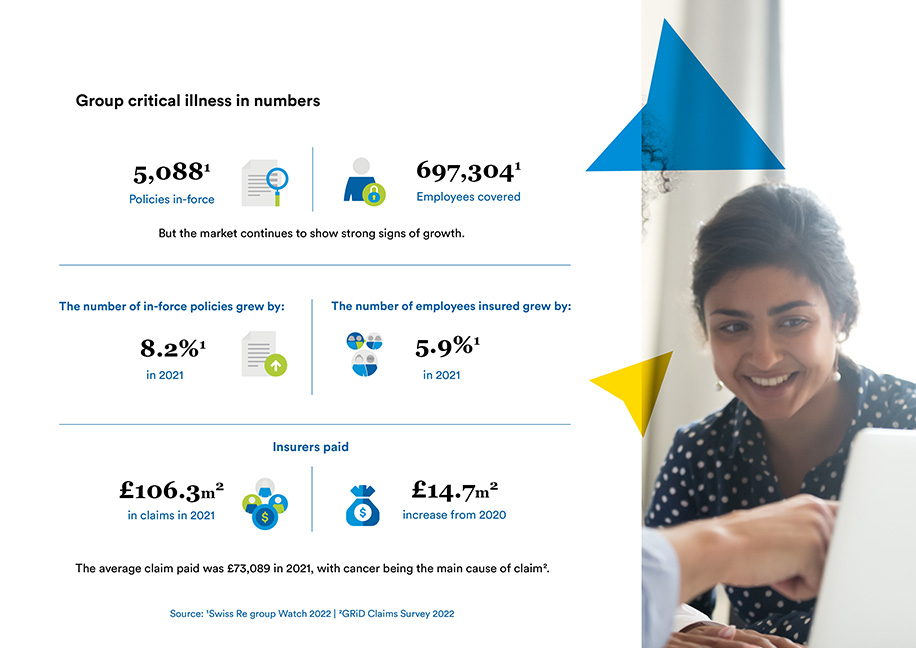 Conditions covered
Group critical illness policies vary across the market, but most insurers offer a standard or core policy, with an option to extend the cover for an additional premium.
Standard policies cover between 12 to 15 serious health conditions and operations. These usually include cancer, heart attack, stroke, kidney failure, major organ transplant, multiple sclerosis, and coronary artery bypass grafts.
Extended cover builds on this list, adding conditions such as liver failure, benign brain tumour, loss of limbs, blindness, and operations including heart valve replacement and aorta graft surgery. Insurers will offer between 20 and 30 additional conditions on these policies.
Children's cover can also be included on group critical illness policies, usually up to age 18 or 22 if in full-time education. This covers conditions that are more likely to be diagnosed in children, such as cerebral palsy, cystic fibrosis, and muscular dystrophy.
For a claim to be valid, an employee must meet the insurer's definition of the condition. As examples, most insurers will exclude less advanced forms of cancer, or require surgery to divide the breastbone for a claim for coronary artery bypass grafts to be valid. The employee must also survive for a specified period after the diagnosis or procedure, typically 14, 28 or 30 days.
Definitions vary between insurers but, as a minimum, they must meet the Association of British Insurers' Minimum Standards for Critical Illness Cover if they are an ABI member. These set out minimum definitions for conditions to help consumers, employers and advisers understand and compare policies.
Policy details
Group critical illness is commonly offered as a flexible or voluntary benefit. In 2021, of the employees with group critical illness cover, more than two thirds (478,622 out of 697,304 according to Swiss Re Group Watch 2022 survey) were covered by a flexible or voluntary arrangement.
Cover is offered as a multiple of salary or a set amount, with flexible and voluntary schemes enabling employees to select how much cover they want. Children are automatically covered, with cover capped at the lower of £20,000-£25,000 or 25% of the employee's benefit. Insurers can also allow employees to cover their partners.
Where cover is paid for by the employer, premiums are tax-deductible for employers, and are treated as a benefit in kind or P11D benefit for employees. Employers are also liable for Class 1A national insurance contributions on the premiums.
As well as providing a tax-free lump sum in the event of a valid claim – which the employee can spend however they wish – most group critical illness policies include additional support services that can be used by employers and employees, even if they don't need to claim. These can include wellbeing tools, employee assistance programmes and second medical opinion services.

Medical underwriting
Free cover limits apply to group critical illness insurance so, providing their cover is less than this, employees will not need to be medically underwritten. However, to manage risk, insurers also apply a pre-existing conditions exclusion. This excludes from cover pre-existing conditions and related conditions.
As an example, if an employee had a stroke before they were covered under a group critical illness arrangement, and they then suffered a further stroke, this would be considered a pre-existing condition and a claim would not be payable.
These complexities around pre-existing conditions and related conditions mean it is important that employees understand how these exclusions may affect them if they opt for cover through a flexible or voluntary arrangement.
Further growth is expected in the group critical illness insurance market. Nearly two thirds (64%) of respondents to Swiss Re's Group Watch 2022 survey expect the market to continue to grow, with most growth coming through flexible and voluntary arrangements
Join the MetLife Academy mailing list
Subscribe and get access to new content when it becomes available.